You have two options to choose from when it comes to adding other store's registries to Babylist.
Add Registry Link
The other registry will appear on your Babylist as a link.
Gift givers can still search for your linked registry in store, online or in person.  
Please note that the other registry does not sync with Babylist, so you don't want to put the same thing on both registries. You might end up getting a duplicate gift, because we don't have any way of knowing when something is marked as purchased on an outside site. 
Transfer Items
All items from your other registry will move to your Babylist. All you have to do is copy and paste a link, and they'll be transferred.
Once the transfer is complete, you can say goodbye to the other registry and delete it! We ask that you do this because the registries will not sync, so if an item is purchased off of one registry, the other will not know about it and you may end up with duplicates.
You'll only need to manage one registry! Any new items you want to add can be added directly to Babylist using the bookmark button or the app. 
Please note: items set up as group gifts on your other registry will not transfer to your Babylist. Please make sure this feature is turned off before transferring your registry. Also, your registry will need to be made public before transferring or linking it to your Babylist. 
Trying to determine what works best for you?
The easiest way to decide is whether or not you want your merged registry to be open and active in-store. If your gift givers are more inclined to shop traditional retailers and are accustomed to finding registries at brick and mortar stores, we recommend linking your registry. You'll also be able to take advantage of any discount programs or incentives offered by those retailers. 
If you don't mind deleting your other registry, then we recommend the transfer. That's the easiest way to see all the items you have registered for in one place. 
Are you using a computer?
From your "Build Registry" page, go to your tiles located under "Finish Your Registry Setup." Click on "Add a registry from another site." If you're logged in, you can also click here.

Are you using the app?
Tap the menu bar in the top left corner and then tap Registry > Transfer or Link a Registry.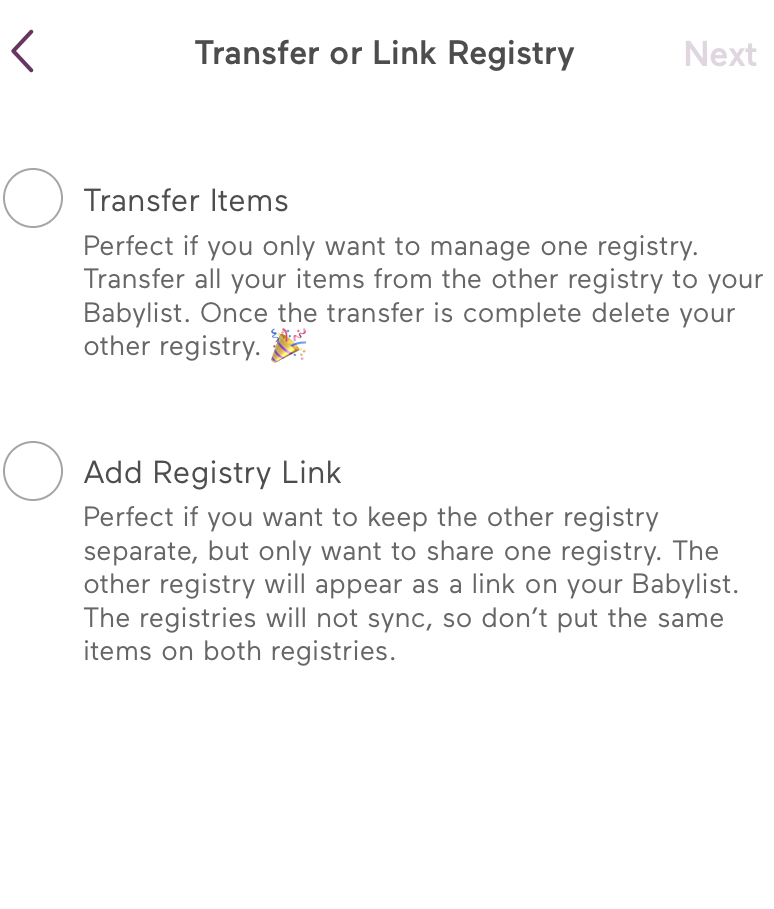 If you have any questions, contact our Happiness Heroes and we'll be happy to help.